Reading Time: 3 minutes
Rubber roller manufacturers in North America are now using one-step processes to bond rubber covers to the roller cores. DuPont THIXON™ and MEGUM™ adhesives retain their performance in high temperatures and severe applications and work for a variety of different elastomeric cover materials and roller core substrates. Using these products, manufacturers have been able to drastically consolidate their portfolio of primers and cover coats.
How are rubber rollers used?
Rubber rollers are used in a many manufacturing processes to accomplish various mechanical functions and create a uniform pressure zone.
Some rollers are used to apply paint or printing inks. The furniture industry uses rollers in sanding and pressing operations. The plastic industry uses rollers to make pellets, laminates and film coatings. The textile industry uses rubber rollers to bleach, dye and slash fabrics. The food industry uses rollers for food packaging, the leather industry uses them for stripping and treating and the glass industry for forming processes. Common applications:
Printing
Steel production
Paper production
Conveyance
Roll-coating
No matter what the application, the rubber rollers must exhibit excellent dynamic properties and be able to withstand the chemicals they come in contact with. This means that in addition to being to withstand the application without degradation, the covering must stay bonded to the core material.
How are rubber rollers fabricated?
Roller covers are bonded to a roller core made of plastic or metals like steel and aluminum. Covers can be made from many elastomeric materials such as:
Nitrile
Styrene Butadiene
EPDM
Neoprene
CSM/Hypalon
Natural rubber
BUTYL
Silicone VMQ
Urethane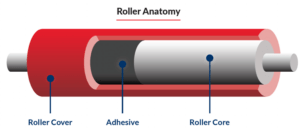 It is important to select a roll covering material that has physical properties that meet your specific application parameters.
Once you select the covering material, it must be bonded to the core using an adhesive that will not fail when used in severe conditions. The covers must be able to continue performing in strenuous, high temperature environments where they are in contact with corrosive fluids.
Roll coverings must also exhibit excellent dynamic properties since rollers operate under high pressure and speeds. Lastly, roll coverings must be able to withstand elevated temperatures and must not degrade from long term exposure. An effective covering must not change appreciably in use, even when exposed to solvents and chemicals.
How are rubber covers bonded to the roller core?
DuPont MEGUM and THIXON branded adhesives have been used in the rubber roller industry for decades to bond covers to roller cores. Dozens of grades are available and you can achieve an effective bond using either a one- or two-coat system.
The one-coat system does not require a primer, so you can perform the operation with a single-pass adhesive coating and drying phase. Most environments do not require more than the one-coat system.
For extreme environments where a one-coat won't do, use the vulcanizing adhesive primer THIXON P-6-EF. When used in combination with THIXON/MEGUM cover coats, this non-chlorinated polymer-containing system resists high temperatures and fluids far better than competing primers. It can be in environmentally stringent applications like elevated temperatures that cause issues with standard rubber-to-metal primer systems.
After applying the primer, apply a THIXON/MEGUM cover coat prior to building the roller. This bridges the gap between the primer and the rubber cover, remaining flexible so that the two components stay together throughout their lifetime.
Benefits of one-step adhesives
Achieving a quality roller product requires a durable bond between a roller core and cover. Traditionally, a two-step adhesive system with primer and cover coat was used to achieve this bond, but most applications require only one step with THIXON/MEGUM adhesives.
Using these products, many rubber roller manufacturers have successfully consolidated their portfolio of primers and cover coats to three adhesives that effectively bond across dozens of compounds.
One adhesive for multiple core and outer substrates
Increases production throughput
Minimizes manufacturing steps
Reduces downtime associated with product change-over
Prevents accidental misuse of an incorrect adhesive
For assistance selecting the right adhesive for your rubber roller application, call HM Royal.