Reading Time: 2 minutes
Carbon black is a reinforcement and performance additive for plastic and rubber compounds to improve resilience, strength, and conductivity of end products. Escalating prices for carbon black oil, a primary element of carbon black, has made the filler more expensive in recent years.
A superconductive carbon black produced by Nouryon called Ketjenblack achieves the same conductivity as conventional carbon blacks at substantially lower concentrations. In addition to reducing production costs, it lowers the load to lessen the impact on the final product.
Less Product; More Conductivity
The structure and extremely high surface area of KetjenBlack are what enables the material to achieve a higher electrical conductivity than conventional carbon black. To attain the same results, formulators can use about one-third to one-sixth less of the superconductive black depending on the grade.
Less Impact on Final Product

Ketjenblack reduces loading quantity by up to half while maintaining the same level of conductivity as conventional carbon black. A lower loading quantity has less of an effect on the final product's:
Base resins or paints
Processing properties
Mechanical properties
Results vary by application as the loading required to achieve a particular conductivity can vary by the polymer.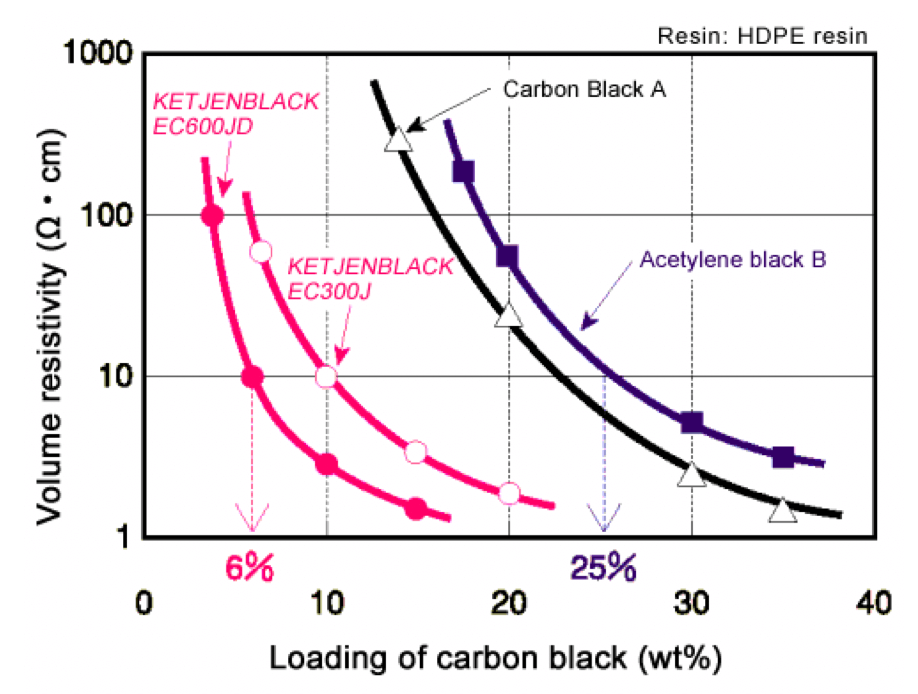 Ketjenblack carbon achieves the same resistivity as a competitive carbon black with 1/2 to 2/3 of the loading quantity. Source: KETJENBLACK Highly Electro-Conductive Carbon Black | Lion Specialty Chemicals Co., Ltd. (lion-specialty-chem.co.jp)
Different Grades
This chart shows the structure of Ketjenblack compared to Acetylene black.

Source:  KETJENBLACK Highly Electro-Conductive Carbon Black | Lion Specialty Chemicals Co., Ltd. (lion-specialty-chem.co.jp)
Ketjenblack is available in two grades: EC-300J offers very high purity and is compatible with all polymers, resins, coating, and inks, while EC-600JD is a top-end superconductive black carbon with very high purity compatible with all polymers, batteries, and fuel cells. Only one-third of EC-3000J is needed when replacing conventional electroconductive blacks. About 40% less is needed of EC-600JD compared to EC300J.
Below is a comparison of the two grades:

Applications
Ketjenblack can be added to resin compounds, polymers, thermosets, thermoplastics, and elastomers to create electro-conductive battery materials, paint, colorant, and toner in the protective packaging of electronics, fuel tanks and hoses, conductive flooring, high-voltage cables, batteries, fuel cells, and conductive paint.
Ketjenblack is manufactured by Nouryon and is distributed by HM Royal Materials Distribution.  Contact a raw materials specialist who can answer your questions and choose the grade and quantity of KetjenBlack for your application. You can also email us at info@hmroyal.com.