Reading Time: 3 minutes
Today's manufacturers rely on resins to develop high-performing materials. These products are used in a variety of applications, ranging from rubber and adhesives to paints and varnishes.
Up until now, many manufacturers have used resins produced from Rain Carbon's Uithoorn production site, a world-leading producer of carbon-based products. However, Rain Carbon Inc. closed their Uithoorn facility in the Netherlands in March 2020.
"In light of eroding profitability for hydrocarbon and C9 aromatic resins, particularly for printing inks and adhesives, our subsidiary RÜTGERS Resins B.V. will cease production in Uithoorn by the end of the first quarter next year," said Rain Carbon's President Gerry Sweeney in an article on PR Newswire. (View full article to learn more.)
With the closure of the Uithoorn site, manufacturers will have to start looking for alternative products for their formulations.
One possible alternative is the Novares® LA series from Rain Carbon Inc. The Novares LA products are liquid hydrocarbon resins produced at the company's Duisburg facility in Germany. They are available with different viscosities, which means they can be used as adhesive thinners as well as modifiers and water repellents in combination with binders. They can also be customized to meet specific application requirements.
Here is a list of alternatives for the premium grades produced at the company's Uithoorn production site:
● Novares® LA 100 P → Novares® LA 100
● Novares® LA 300 P → Novares® LA 300
● Novares® LA 700 P → Novares® LA 1000
● Novares® LA 2000 P → Novares® LA 1900
Performance Advantages of Novares Resins
Novares resins are frequently used in a wide range of applications. Liquid products with low or non-VOC content are often used in coatings applications where they offer improved flexibility, hydrophobicity, corrosion resistance and wetting properties. They provide enhanced performance in coatings applications such as:
● Corrosion protection
● Flooring
● Sealing/membrane
● Offshore sector
Hydrophobicity and Chemical Resistance
Novares products are low viscous and low VOC liquids with high solvency power and a very hydrophobic, aromatic structure. These structural properties result in increased resistance against moisture and aqueous media, making these products ideal for civil engineering and corrosion-protection systems. After being stored in aqueous media for 6 months, Novares modified epoxy systems had a much lower weight increase than unmodified reference systems.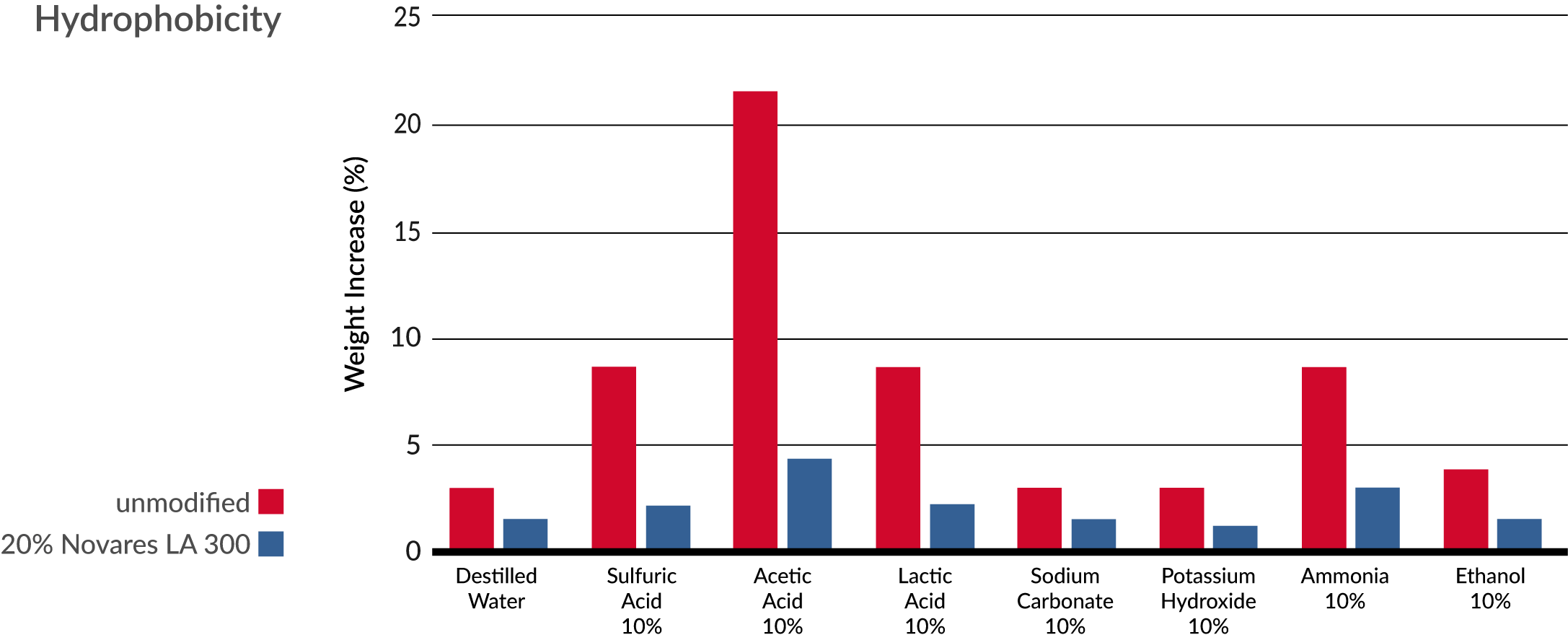 The modified epoxy systems also demonstrate better performance in harsh environmental conditions, compared with unmodified formulations. In fact, Novares products generally help to extend the life span of the formulation and provide increased surface protection.
Significant Improvement in Color Standards & Specifications
If you need a light-colored resin to meet color specifications, a light color is a standard property for Novares liquid resins. They have the same light and stable color as former premium grades from the Uithoorn production site.
• Novares® LS 500: from max. Gardner 6 to max Gardner 3
• Novares® LA 700: form max. Gardner 6 to max Gardner 2
• Novares® LA 300: from max. Gardner 6 to max Gardner 2
• Novares® LA 100 (former LA 100 P): max Gardner 2
• Novares® LA 1000 (former LA 700 P): max Gardner 2
• Novares® LA 1900 (former LA 2000 P): max Gardner 2
Additionally, the transferred grades are much more stable against crystallization.

As a trusted distributor of Rain Carbon Inc., H.M. Royal can provide the Novares resins you need to improve performance. We offer resins to support nearly every type of application, including hydrocarbon, liquid and indene-coumarone options. For more information on Novares resins, contact an H.M. Royal expert today.