Reading Time: 2 minutes
Bruggemann, a company specializing in polymer additives, has introduced a new technology that was recently featured in Rubber World. This innovation combines two additives, TP 1862 and LP21-103, to create a rubber-to-metal adhesive that eliminates the need for resorcinol and cobalt salt.
Adhesives that bond metal and rubber are critical in the production of automobiles, machinery, and electronics. Traditionally, resorcinol and cobalt salt have been utilized in adhesive formulations to achieve the necessary bond. However, these materials pose a danger to the environment and workers due to their toxic properties. With this new technology, a safer and more eco-friendly option is now available.
Toxic bonding ingredients
ANSES, the French agency for food, environmental, and occupational health and safety, identified resorcinol as an endocrine-disrupting product that can lead to severe health effects. Cobalt also is labeled as toxic during inhalation, consumption, or exposure to the skin.
In addition, hexamethozymethlymelamine (HMMM), a crosslinking agent with resorcinol, is cited as a municipal water concern because it leaves behind residual transformation products that result in even greater ecotoxicity than just the presence of the parent chemical.
Safer bonding adhesives

Bruggemann developed TP 1862 and LP 21-103 additives in response to the market's requirements for more environmentally-conscious products. They are less toxic, sustainable, and high-performance additives for adhesive formations.
Combining novolac-based resin doped with active zinc ions, formulations with the new additives achieve high mechanical strength while maintaining adhesion to steel. Eliminating cobalt and resorcinol from formulations removes toxicology concerns and may also reduce the amount of heavy metal zinc in tire compounds.
Benefits of TP 1862 additives include:
Ready to use
Does not create dust
Has no agglomeration effects
Has a low melting polymer as a binder
Has a lower PHR value
As the following table illustrates, TP 1862 additives lower PHR and still achieves higher torque and pull-out performance.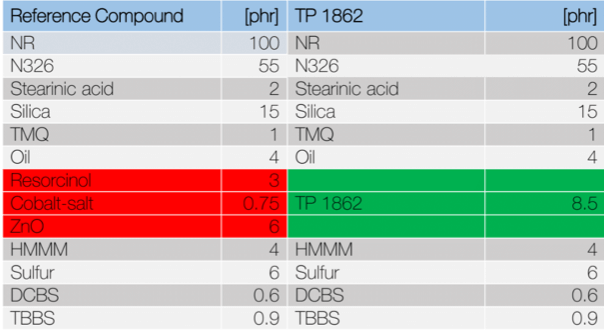 This chart illustrates that over time, formulations with TP 1862 additives demonstrate higher tensile strength when aged at 70° C.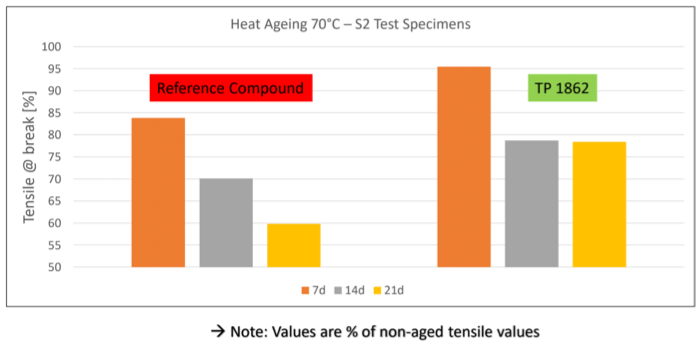 Formulation Advantages
TP 1862 additives come in granule form:
Reduces low zinc and heavy metals
Simplifies formulas: one component to replace three ingredients
Increases mechanical properties
Eliminates cobalt salts and resorcinol
Eases product handling due to granule shape
Dust free
No agglomeration effects
Reduced moisture uptake
Increased adhesion
Pre-dispersion – a more homogenous mixture
Lower melting point (<120°) as binder
Greater adhesion to steel
H.M. Royal offers Bruggemann TP 1862 and LP 21-103 additives as a sustainable solution that offers high performance for rubber-metal bonding without jeopardizing health and safety. In addition to its positive impact on human health and the environment, the polymer additive saves money over more expensive products.
Contact a raw materials specialist who can answer your questions and choose the grade and quantity of Bruggemann rubber additives for your application. You can also email us at info@hmroyal.com.