Reading Time: 3 minutes
We are excited to announce the launch of H.M. Royal's newly designed website–https://hmroyal.com. The goal of the new website is to enhance user experience so that new prospects, loyal customers and supplier partners can find the information they need–in the most efficient way possible.
The updated website offers new and improved functionality to better serve your raw materials and chemical needs. It features easy navigation, a clean interface and the ability to search for products by manufacturer or category. We've also added an eStore for convenient online access to a variety of products.
The fully revamped website was designed to reflect H.M. Royal's updated branding. It incorporates the new brand messaging while staying true to H.M. Royal's core values and our long legacy of serving compounders in multiple industries.
We encourage you to take a tour of the new website, explore the exciting new features and connect with us on social media (LinkedIn, Facebook and Twitter) to stay up to date on the latest news.  
Smarter Product Search
The smart search feature allows you to search for products by name and automatically suggests products as you type. It makes it easier to find the materials you need to improve compounding performance and ensure ongoing success.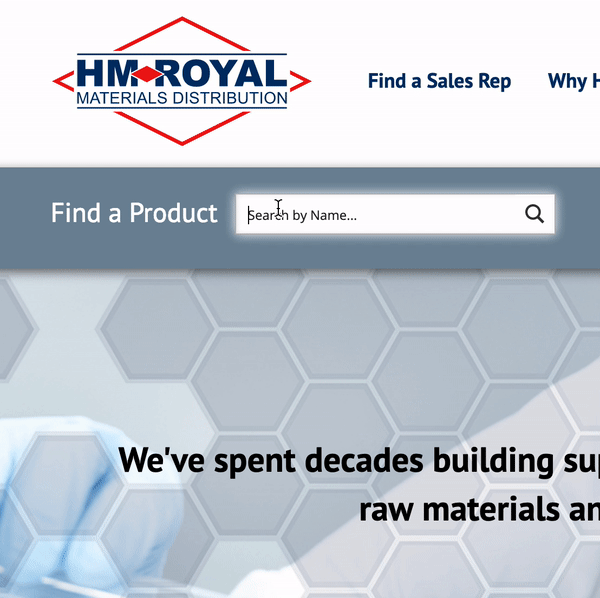 Search by Product Category or Manufacturer
On the new H.M. Royal website, you can also search for products by category or manufacturer name. Simply click the dropdown menus and select the category or supplier you're looking for.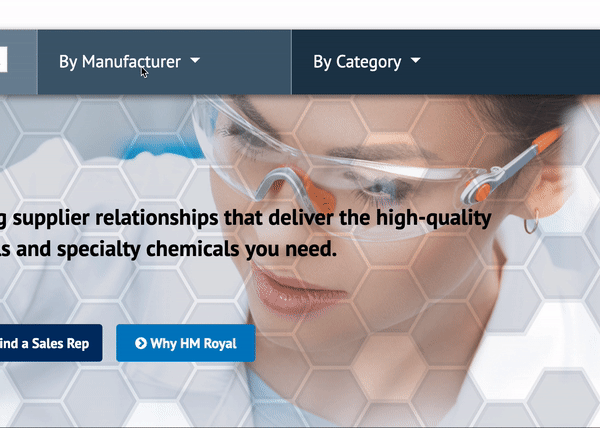 Prospective and current customers will find useful information on the new product category pages and manufacturer pages. Each page provides a listing of products available with links to individual product pages. 
As of now, the website only shows a sampling of our full product and supplier list. We will continue to add more suppliers and products to the website over time. If you don't see the product or manufacturer you're looking for, please contact us.
New Online Store
You can now purchase products through our new online store! If you click on the "Shop Online" button at the top right of the website, it will take you the main page with a full listing of all our products available for online purchase. You can then click on each product to get more information.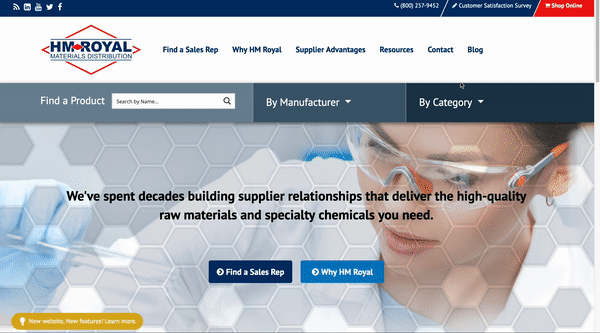 The new eStore features a variety of products, ranging from rheometer film to gloves to knives. It's quick and easy to change the quantity and add items to your cart. You can also set up an account to view your purchase history, billing information, etc.
We will be adding new features and products to the eStore over time, so be sure to check back in the future. If you have any questions about the eStore, please email estore@hmroyal.com or browse our eCommerce FAQs.
Download SDS & TDS Sheets 
We're always listening to your feedback about which features you would like to see added to the H.M. Royal website. Many of you requested an easier way to access SDS and TDS sheets. That's why we added the option to download SDS and TDS sheets on every product page. This makes it easier to find the information you need to select the right materials for your formulation.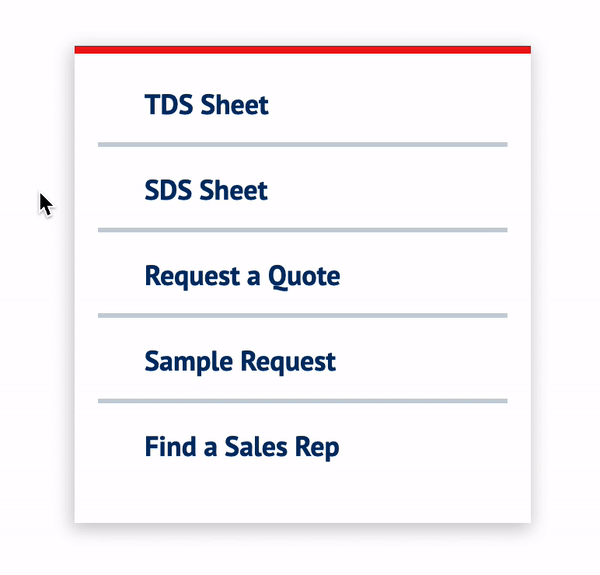 We also added links to request a quote, request a sample or find a sales rep in your region. All of these links are located on the upper righthand side of the product pages for your convenience. If you prefer to use ShareFile, or you need a data sheet for a product that isn't currently on the website, you can log into ShareFile on the Resources page.
We hope you like the changes, and if you have any feedback, please let us know. Be sure to look for more updates and improvements in the future!