Reading Time: 2 minutes
TRENTON, N.J., March 10, 2023 – H.M. Royal, a leading provider of raw materials and specialty chemicals, is pleased to announce that Quinn Wierckz has taken the role of technical sales manager for the region covering North Carolina, South Carolina and Virginia. In this role he will work to strengthen current customer/supplier relationships and aid in identifying new opportunities to expand customer and supplier bases.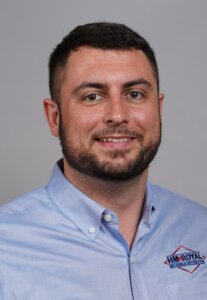 Wierckz has more than ten years of rubber industry experience with focuses in recipe design, testing and processing. Previous to coming to H.M. Royal, he worked at Teledyne Oil and Gas and HEXPOL Compounding in various technical functions.
Wierckz graduated from Ferris State University with an A.A.S. in industrial chemistry technology and a B.A. in chemistry with a minor in polymer material technologies. He resides in Harmony, North Carolina, with his wife and four children where he enjoys coaching youth basketball, kayaking and competitive shooting.
He can be reached at 231-580-4115 and quinn_wierckz@hmroyal.com.
About H.M. Royal, Inc.
For over 90 years, H.M. Royal, Inc. has distributed innovative raw materials and product ingredients for businesses operating in diverse markets such as transportation, communications, electronics, medical, construction, agricultural, mining, defense, civil infrastructure, capital goods and general industry. Areas of focus include rubber, plastics adhesives, sealants and protective coatings. Headquartered in Trenton, New Jersey, and Buena Park, California, H.M. Royal deploys a professional technical sales development team throughout the U.S. Sales and sales development are supported by world-class customer service and a network of full-service warehouses. For more information, visit www.hmroyal.com or call 800-257-9452.
Media Contact:
Lisa Goetz
Schubert b2b
lgoetz@schubertb2b.com
610-269-2100 x244