Reading Time: 2 minutes
TRENTON, N.J., October 8, 2018 – H.M. Royal, a leading provider of raw materials and specialty chemicals, recently announced a distribution partnership with Holland Colours. Holland Colours is an industry-leading supplier of solid and liquid colorants, masterbatches and additives for coloring rigid and flexible PVC, PET, polyolefins and a wide range of other polymers.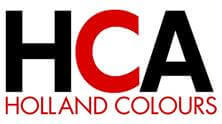 H.M. Royal will distribute and provide sales and technical support for Holland's colorants for liquid silicone rubber (LSR) applications. They will work closely with customers to deliver custom solutions for precise color matching and enhanced consistency. With a strong network of experienced technical sales professionals across the continental United States, H.M. Royal will ensure timely delivery and exceptional service.
"H.M. Royal searches for supplier partners with the highest standards of product quality, innovative technology and a focus on meeting each customer's specific needs," said Joe Royal, President, H.M. Royal, Incorporated. "With Holland Colours, we are partnered with just such a supplier to meet the needs of our growing silicone rubber business."
"Holland Colours has long been known for its superior level of customer service and products around the globe," stated Joe Bauer, President, Holland Colours Americas Inc. "Transferring the U.S. distribution of our LSR colorants to H.M. Royal will strengthen the supply chain in our region to make service and product accessibility even greater. This partnership allows our LSR customers to have deeper industry and product knowledge at their fingertips than ever before. We look forward to cultivating this strong relationship between Holland Colours, H.M. Royal and our customers for many years to come."
About Holland Colours
Headquartered in Apeldoorn, the Netherlands, Holland Colours has been developing coloring products of the highest quality since 1979. They provide solid and liquid colorants, masterbatches and additives for the building and construction industry, as well as PET and polyolefins for the packaging industry. Their technology experts are always creating new color solutions to deliver exceptional coloring performance. With manufacturing and/or sales operations in the Americas, Europe and Asia, they provide personal local services on a global scale. For more information, visit www.hollandcolours.com.
About H.M. Royal, Inc.
For over 90 years, H.M. Royal, Inc. has distributed innovative raw materials and product ingredients for businesses operating in diverse markets such as transportation, communications, electronics, medical, construction, agricultural, mining, defense, civil infrastructure, capital goods and general industry. Areas of focus include rubber, plastics adhesives, sealant and protective coatings. Headquartered in Trenton, New Jersey, and Buena Park, California, H.M. Royal deploys a professional technical sales development team throughout the U.S. Sales and sales development are supported by world-class customer service and a network of full-service warehouses. For more information, visit www.hmroyal.com or call 800-257-9452.
Media Contact:
Lisa Goetz
Schubert b2b
610-269-2100 x244